MERCHANT POLICIES
We appreciate your business. That's why we protect your information, ship with trusted carriers, and offer continuous support for our products. Let us know if you have any questions at:
Our Indianapolis office: 317.222.5400
E-mail: sales@coppermountaintech.com
TERMS OF SALE
Copper Mountain Technologies offers our products and services other than calibration in accordance with the CMT Terms of Sale [PDF]. Unless otherwise specified on the Purchase Order and acknowledged by CMT in writing, Customers agree to the terms and conditions stated therein. CMT may accept the Terms and Conditions as provided by our Customers contingent upon review and acknowledgement on the Purchase Order.
TERMS OF CALIBRATION SERVICE
CMT calibration services are offered in accordance with the CMT Calibration Terms of Service [PDF]. Unless otherwise specified on the Purchase Order and acknowledged by CMT in writing, Customers agree to the terms and conditions stated therein. CMT may accept the Terms and Conditions as provided by Customers contingent upon review and acknowledgement on the Services Order Form [xlsx].
SHIPPING AND DELIVERY
Order Processing
Once your product order is placed, Copper Mountain Technologies provides information on your order by email. If you have multiple items on your order, you may receive additional emails for each item. All items are stocked and shipped from Copper Mountain Technologies' headquarters in Indianapolis, Indiana. We are able to ship anywhere in the world. No matter the destination, you can trust that your order will be quickly processed and safely delivered. Orders are shipped Monday through Friday with the potential exception of nationally observed holidays.
When you place a product order we will estimate delivery dates based upon the availability of your item(s), estimated weights and dimensions of total products ordered, and your shipment's destination.
Domestic Shipping
Domestic orders are shipped via UPS Ground unless otherwise specified. Please see the map below for estimated delivery times within the United States.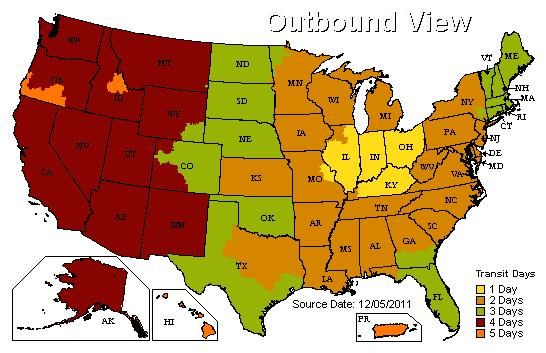 *Express shipping must be requested at time of order.

International Shipping
International orders are shipped via FedEx Air unless otherwise specified. Please see the chart below for estimated delivery times and charges.

Orders shipped outside the United States may require additional information for customs processing. If that is the case, you will be contacted by a representative and this information will be collected before the order is shipped.
NOTE: Extra shipping costs may be associated with locations outside the United States due to local customs, duties, tariffs, and laws.
Tax Information
Sales tax is calculated based on the location of the purchaser; items shipped to locations outside of Indiana via a third party carrier (such as UPS or FedEx) will not incur sales tax as billed by the seller. Indiana purchasers will pay applicable sales tax (7.0%). Actual taxes that will be charged to your credit card will be calculated at the time your order is processed and will appear in your order confirmation notification.


Shipment Notification Email
We'll send a shipment notification email when the item ships from our warehouse. The shipment notification email includes the carrier name, tracking number, and an estimated delivery date. You can click the tracking number link to track your package on the carrier's website. Orders are typically filled within two business days of placement and payment processing. If any item is back ordered or unavailable to ship within the quoted time period, we will contact you within two days from the date of your order and provide you an updated delivery date based on the soonest availability of the item. We request that the Purchase Order delivery date be amended at the time of notification to reflect our updated promise date to you. By default, the order will ship as available, unless we receive from you prior notification for an alternate shipping schedule.


Returns, Exchanges, and Refunds
Our ultimate goal is for you to be completely satisfied with your devices from Copper Mountain Technologies. Please refer to our Return, Exchanges, and Refund policies stated within the Terms of Sale. If you receive an item you're dissatisfied with, please contact your local sales representative, or you may contact our office directly at 317-222-5400 or sales@coppermountaintech.com and we will take the appropriate action to resolve the issue to your complete satisfaction.


Returns Shipment and Packaging
Please package your instrument or calibration accessory with care to prevent damage in shipment. If the original packaging materials are available, we recommend their re-use packed inside of an outer shipping box. Please contact us for advise regarding shipping materials. Any packaging or shipping materials used to return the instrument, other than CMT standard packaging, will be disposed of and not re-used at CMT's sole discretion. Please advise us any special requirements related to receiving your return shipment.


Warranty
We guarantee the proper functioning of all CMT products for three years from the date of shipment. Please refer to our Terms of Sale for a complete description of our Warranty policy. If there are any issues with the proper functioning of your device, please contact our Technical Support team at support@coppermountaintech.com and list the model number, serial number, and issue experienced. Our team will assess the situation and work with you to determine if there is a mechanical, electrical, or software related cause for the issue or problem, and will offer additional user training if appropriate. If it is determined that a product defect is the cause of the performance issue, we will repair, or if necessary, replace the defective item per our stated policies.